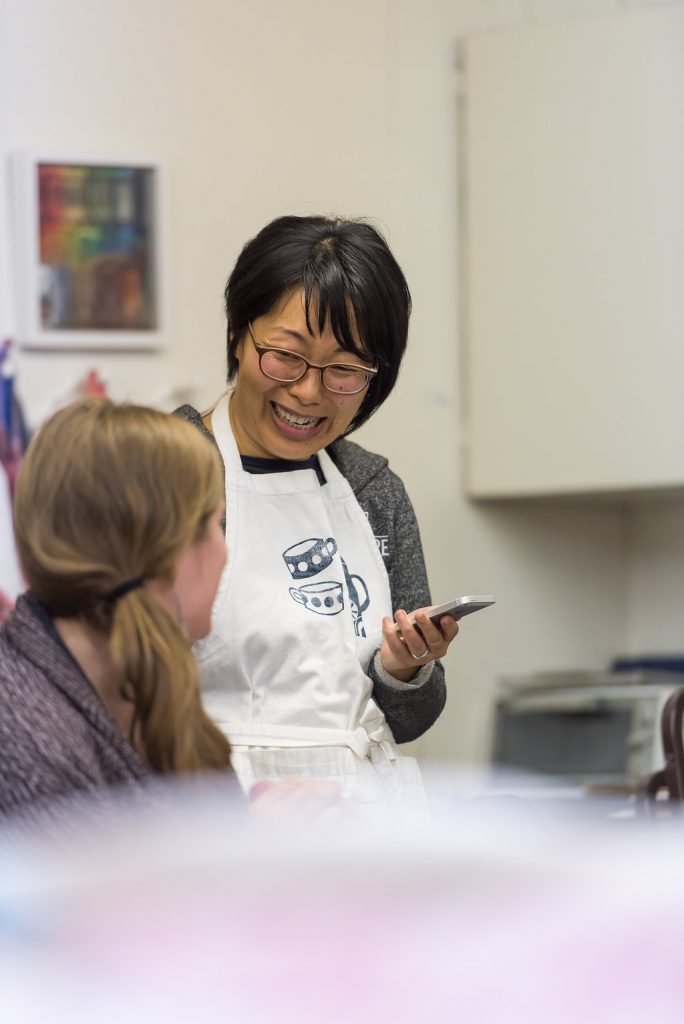 In addition to networking and activities that help us connect as a community of makers and business owners, the weekend will be chock full of speaker sessions, small business classes, panel discussions, and roundtables pertaining to topics that are particularly relevant to those of us in the world of craft businesses.
Crepe paper gets all of the buzz, but you can make paper flowers out of any paper from tissue paper to card stock. In this class, you'll learn some versatile techniques that will let you turn any paper into a paper flower. You will learn some basic petal shapes and some basic stamens that can be mixed and matched to make a huge number of different flowers! You can bring some of your favorite papers, and there will be lot's of fun paper and all other supplies are provided.
with Sarah Yakawonis
Whether you are a crafter with a great book idea, or an illustrator hoping to see your work in print, this workshop will demystify book publishing, lay out the elements of a great book proposal, and help you pinpoint the right publishing path for you and your work. Publishing pro Jennifer Worick will pull back the curtain and share what really goes down in acquisition meetings and what publishers are looking for.
with Jen Worick
Re-imagine the family photo album and learn how to transform classic black & white photographic images with colorful embroidered embellishments. Join designer and maker Robert Mahar in learning core embroidery basics, essential stitches and how to apply them to a selection of vintage photographs custom printed onto cotton linen fabric. This class is well suited for beginners, however, students with more embroidery experience are encouraged to join for a fun refresher course and the opportunity to apply their skills to photographic imagery. All materials (fabric, embroidery floss, hoops and needles!) along with instructional diagrams are provided. Take this workshops' skills and techniques home with you and transfer your own photo archive into wall-ready works of art.
with Robert Mahar
As the masters of our business universes, we are responsible for ALL the things, no matter whether those things fuel us or suck all the energy out of us. It's easy to lose track of the work that lights a fire under our ass and makes us leap out of bed in the morning. How do we keep the work that fuels us front and centre, even as we have to deal with all that other stuff that leeches our energy? Come for a lively exploration of why we do what we do and how we can sustain our doing of it; stay for the insights that will fuel your work after camp. Bring a notebook and your favourite pen!
with Kim Werker
This class is centered around a few exercises from Lisa's book [of the same title]. The goal is to touch on serious ideas of Color Theory, but through whimsy and play. Using watercolor you'll begin to learn about color schemes, paint transparency and opacity, tints and shades, etc. You'll learn more about how materials and other influences can impact our perceptions of color, and how to develop your own personal relationship to color – particularly through generating a PERSONAL color wheel. We'll end class with a Color Meditation – a incredibly beneficial practice Lisa has instituted in her own studio for years now.
with lisa solomon
It's always easier said than done, which is how I managed to run my business for years and years without a marketing plan. Eventually, I realized I was failing (by not even properly trying!) to reach the right people for my work. In this session, I'll share everything I did to create and implement a marketing plan over six months, including what worked and what didn't, where I started out and where I ended up, and what you can do in your own business so you can stop guessing and move right into making smart decisions that will help you grow your audience and increase sales.
with Kim Werker
In this class we will be talking about wholesale: what you need, when and how to reach out, and how to maintain your accounts. Whether you are ready to start wholesaling, or trying to pick-up new accounts, I'll talk you through the buyer/seller relationship and what you are expected to know.
with celestial sipes
There's more to Instagram than creating the perfectly curated feed and writing catchy captions. If you want an account that has a lasting effect on your business then it's time to change the way you approach the platform. Learn the importance of engagement and strategies that can help you increase your visibility and build stronger connections with potential clients and others in your industry.
with Anna Osgoodby