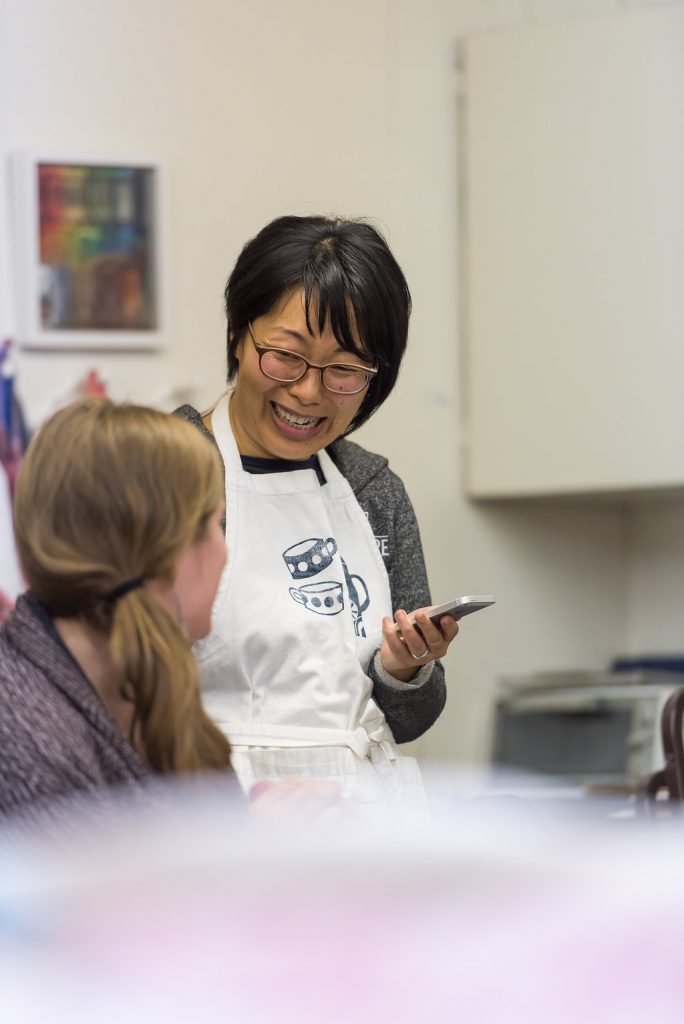 In addition to networking and activities that help us connect as a community of makers and business owners, the weekend will be chock full of speaker sessions, small business classes, panel discussions, and roundtables pertaining to topics that are particularly relevant to those of us in the world of craft businesses.
Crepe paper gets all of the buzz, but you can make paper flowers out of any paper from tissue paper to card stock. In this class, you'll learn some versatile techniques that will let you turn any paper into a paper flower. You will learn some basic petal shapes and some basic stamens that can be mixed and matched to make a huge number of different flowers! You can bring some of your favorite papers, and there will be lot's of fun paper and all other supplies are provided.
with Sarah Yakawonis
Re-imagine the family photo album and learn how to transform classic black & white photographic images with colorful embroidered embellishments. Join designer and maker Robert Mahar in learning core embroidery basics, essential stitches and how to apply them to a selection of vintage photographs custom printed onto cotton linen fabric. This class is well suited for beginners, however, students with more embroidery experience are encouraged to join for a fun refresher course and the opportunity to apply their skills to photographic imagery. All materials (fabric, embroidery floss, hoops and needles!) along with instructional diagrams are provided. Take this workshops' skills and techniques home with you and transfer your own photo archive into wall-ready works of art.
with Robert Mahar
This class is centered around a few exercises from Lisa's book [of the same title]. The goal is to touch on serious ideas of Color Theory, but through whimsy and play. Using watercolor you'll begin to learn about color schemes, paint transparency and opacity, tints and shades, etc. You'll learn more about how materials and other influences can impact our perceptions of color, and how to develop your own personal relationship to color – particularly through generating a PERSONAL color wheel. We'll end class with a Color Meditation – a incredibly beneficial practice Lisa has instituted in her own studio for years now.
with lisa solomon
Explore an imaginative method of transferring traditional weaving techniques from a standard rectangular frame to a circular format utilizing unconventional and easily accessible materials.  Designer and maker Robert 

Mahar

 will walk you, step-by-step, in creating a warp within a classic embroidery hoop allowing you to weave a meditative spiral of beautiful yarns. This beginner-friendly workshop sets you up with weaving best practices and the opportunity to play with fiber texture and color to create a wall hanging uniquely your own. All materials (embroidery hoop, shuttle, needle and fibers!) are provided. 
Plants, flowers, and food scraps are not only a feast for the eyes and palate, but they can also be a treasure trove of colors, tints, and subtle variations for natural dyeing. In this fiber workshop, we will explore how to extract the color from northwest flowers, foraged plants, and food scraps. We will experiment with a variety of cloth fibers, learn about mordants, and discover how to see the potential for color in our everyday landscape. Each student will leave with their own swatch color wheel from what we dye with on the day. 
with Renee Beaudoin
Join us to take a modern approach to the traditional technique of punch needle embroidery. The needle punching method results in beautifully textured finished pieces that can be turned into wall hangings, rugs, pillows, bags, and more. This is a super satisfying fiber art that is fairly quick and easy, so it's great for beginners! In this workshop you'll practice the punch while you work on an abstract swirl pattern designed for this class. Explore the various texture options to create your finished piece. We'll discuss different types of punch tools, fabrics, and fibers that can be used and troubleshoot common issues.
with Liz Wright
In this workshop you'll craft a custom wood cutting board using the art of pyrography. You'll learn the basic techniques of decorative wood burning, which, although dating back centuries, can be expressed with fun, contemporary designs. Using a pen-like burning tool, you'll work on small wood pieces to practice the basic technique. Next you'll move on to your masterpiece, burning a custom design onto a 13.5"x5.5" premium wood board that you can use for general food chopping or serving.
with Liz Wright
Let your inner textile designer shine and stitch up some small treasures! Join me (Sanae Ishida) in a relaxing class featuring loose, organic fabric painting and hand stitching. We'll play with various mediums on fabrics and will then sew your unique designs into lovely lavender-filled sachets. All materials will be supplied.
with Sanae Ishida
In this hands on workshop you'll learn the basics of making sugar scrubs and bath salts as taught by the founder and CEO of handmade. la conner, Robyn Bradley. Mix wet and dry ingredients to create your own jar of handmade. la conner's well-loved sugar scrub, but with your own scent and ingredients selections making it unique to your taste. Bath salts are a trendy and extremely beneficial addition to your bath time routine and after learning how to take them from basic to luxury you'll never go back. Both products will be large enough to enjoy for weeks to come! This fun, yet informative workshop will get your creative juices flowing and remind you how important self-care truly is. All supplies and packaging will be provided.
with Robyn Bradley
Whether you are a crafter with a great book idea, or an illustrator hoping to see your work in print, this workshop will demystify book publishing, lay out the elements of a great book proposal, and help you pinpoint the right publishing path for you and your work. Publishing pro Jennifer Worick will pull back the curtain and share what really goes down in acquisition meetings and what publishers are looking for.
with Jen Worick
As the masters of our business universes, we are responsible for ALL the things, no matter whether those things fuel us or suck all the energy out of us. It's easy to lose track of the work that lights a fire under our ass and makes us leap out of bed in the morning. How do we keep the work that fuels us front and centre, even as we have to deal with all that other stuff that leeches our energy? Come for a lively exploration of why we do what we do and how we can sustain our doing of it; stay for the insights that will fuel your work after camp. Bring a notebook and your favourite pen!
with Kim Werker
It's always easier said than done, which is how I managed to run my business for years and years without a marketing plan. Eventually, I realized I was failing (by not even properly trying!) to reach the right people for my work. In this session, I'll share everything I did to create and implement a marketing plan over six months, including what worked and what didn't, where I started out and where I ended up, and what you can do in your own business so you can stop guessing and move right into making smart decisions that will help you grow your audience and increase sales.
with Kim Werker
In this class we will be talking about wholesale: what you need, when and how to reach out, and how to maintain your accounts. Whether you are ready to start wholesaling, or trying to pick-up new accounts, I'll talk you through the buyer/seller relationship and what you are expected to know.
with celestial sipes
There's more to Instagram than creating the perfectly curated feed and writing catchy captions. If you want an account that has a lasting effect on your business then it's time to change the way you approach the platform. Learn the importance of engagement and strategies that can help you increase your visibility and build stronger connections with potential clients and others in your industry.
with Anna Osgoodby
Do you make and sell your illustrations at craft markets or online but don't know where to start when it comes to licensing? In this class, you'll learn the basics of copyright, what to expect in the process of licensing, negotiations, and the right question to ask to get you the most money. We'll talk about some of the pitfalls to look out for to ensure you can sell your work over and over!
with Sarah Yakawonis
Are you having trouble getting accepted to the shows you're applying to? Are you intimidated to even apply? Are you just starting to get your feet wet vending at craft shows? Want to be better prepared when you do vend? Want to better understand the psychology behind a successful booth? Look no further, we've got you covered! Kristen and Lindsey organize the Urban Craft Uprising, Seattle's largest indie craft show, and are also longtime vendors themselves. They'll share with you details about the jury process, what organizers look for in an application, why the craft show scene has become so competitive, and ways you can strategize to make a more competitive application. They'll also get into the meat of craft show vending — from how to prepare for a big show, to the hidden perks of being a vendor, as well as tips and tricks to keep your stress level down during the big day(s).
with Kristen Rask and Lindsey Ross
The Schedule C is how all of us small business owners will report the profit/loss from our businesses, and it is the form that dictates how much tax you'll owe from your business endeavors each year. So let's make sure we understand it! We'll be going through the actual IRS Schedule C, as well as a handy spreadsheet that helps you track your business expenses and income throughout the year, so that when taxtime comes you'll be ready with all the information you need. We'll also cover quarterly filings like the Washington B&O tax (applicable to all businesses in Washington state), the 941 (applicable to any businesses with employees), and the concept of estimated taxes in general. Bring all your tax-related burning questions!
With Lindsey Ross
Inspired by (but in no way connected to) the book of the same name by Jenny Odell, How to Do Nothing is an experimental workshop designed to help us all disconnect from our devices and reconnect to the world, each other and ourselves. We will explore ways to focus our attention through looking and listening, and then through drawing and embodied mark making. It's way more fun than it sounds! You will leave feeling more aware of your surroundings (weather permitting we will spend some time outdoors) and perhaps more creatively inspired than you've been in a very long time.
with Chelsea Snow
I will offer practical advice to any woman looking to take an invention from idea to market. Walking you through the entire process, I offer encouragement, success stories of other female inventors, and concrete guidance to help women realize their dreams of invention. Based on my book, Be an InventHER: an Everywoman's Guide to Creating the Next Big Thing, I'll help you through the invention process without intimidation or undue complication. So many women are creative and have great ideas for products: why not be an InventHER?
with Hilary Meyerson
The social media landscape is a multi-layered beast in today's world of marketing. With an overwhelming number of actions to take in the social space, where would you ever begin? This exact question is the reason Nectr Social exists, acting as experts in the world of social media to build out custom strategies for businesses with a focus on one thing…bringing home the bacon ($$$)! Throughout this course, we will be walking you through our best practices on social media for small businesses, as well as provide recommendations around how to get started using social channels to effectively communicate your business online.
with Zak Kosher and Dylan Rabinowitz
What does a profitable creative business actually look like? Learn about the systems and habits creative business owners have implemented in order to make money in their small businesses. Using case studies, we'll explore several business structures that you can apply to your own business right away. Join small business expert and cofounder of Money Moxy in this implementation-focused class, and leave with systems and habits that can take your business down the road to success.
with Gwen Kohl
Do you wish there were a community event in your neighborhood that really spoke to you? A meet up? An art show? A craft night? Join Chelsea Snow (co-organizer of Feast Boise and the Portland and Boise Chapters of Church of Craft), Kristen Rask (co-organizer of Urban Craft Uprising, Camp ThunderCraft, previous owner of Schmancy, and creator of an art show called Plush You! that traveled a few cities and landed her her first book deal) and Lindsey Ross (co-organizer of Urban Craft Uprising, Camp ThunderCraft, and owner of DIY yarn shop Yarnia in Portland) in a lively discussion about how to spearhead a community event or project.
If there's something you've heard about that is happening somewhere else, and you want it to happen where you are, that's your cue to…well…make it happen! OR if there's an idea percolating in your head…make THAT happen! We will touch on how to find spaces, how to approach partners, how to grow, and when to say no. Bring your ideas of what you want to see in your community, how you want your group to grow, and we can delve into your prospective projects, leaving you motivated to take the next plunge.
with Chelsea Snow, Kristen Rask, and Lindsey Ross
Do you wander longingly through Anthropologie or World Market or that Boutique on the corner, and wonder how those artists got the gig that turned their art into product & profit? As an Art Director that's been making that same product for companies for decades, and one who especially champions the art & artists, I can help you figure it out. Let's talk about product, and how to start to think 3D. Let's get your illustrations and patterns on ceramics, textiles, metal, etc! This is a mini course on thinking PRODUCT. How to show work in your portfolio so that licensing can be in your future. How to look at your art in a dimensional way. How to see your product potential!
with Margo Tantau
Camp ThunderCraft wouldn't be nearly as awesome without our generous sponsors! All these wonderful businesses are helping out in some way to make sure the weekend is super fantastic.