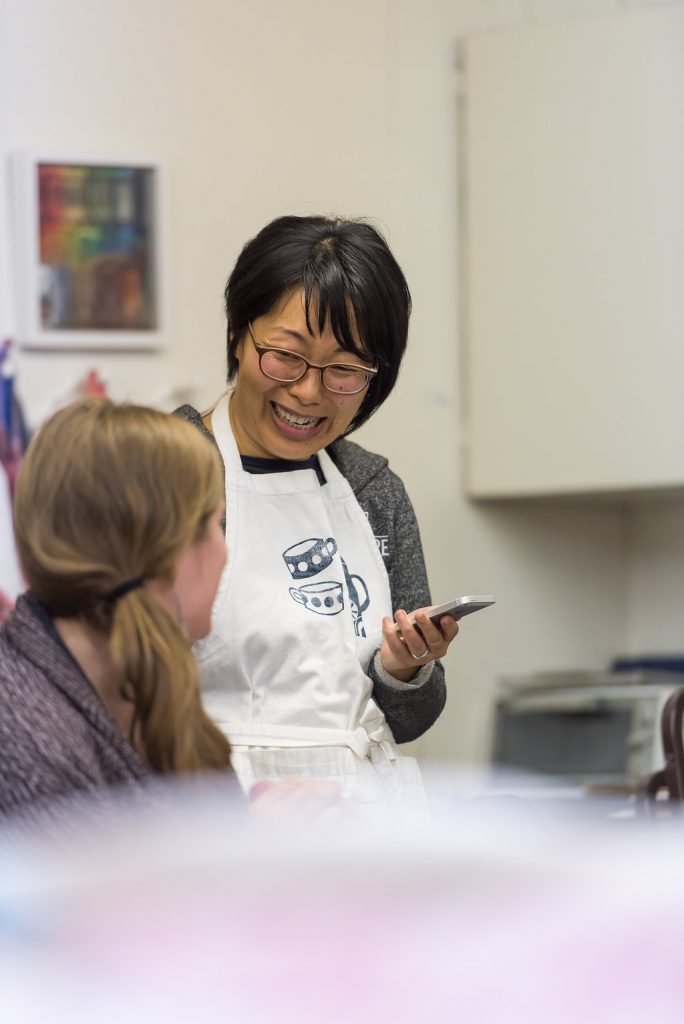 In addition to networking and activities that help us connect as a community of makers and business owners, the weekend will be chock full of speaker sessions, small business classes, panel discussions, and roundtables pertaining to topics that are particularly relevant to those of us in the world of craft businesses.
Crepe paper gets all of the buzz, but you can make paper flowers out of any paper from tissue paper to card stock. In this class, you'll learn some versatile techniques that will let you turn any paper into a paper flower. You will learn some basic petal shapes and some basic stamens that can be mixed and matched to make a huge number of different flowers! You can bring some of your favorite papers, and there will be lot's of fun paper and all other supplies are provided.
with Sarah Yakawonis
Re-imagine the family photo album and learn how to transform classic black & white photographic images with colorful embroidered embellishments. Join designer and maker Robert Mahar in learning core embroidery basics, essential stitches and how to apply them to a selection of vintage photographs custom printed onto cotton linen fabric. This class is well suited for beginners, however, students with more embroidery experience are encouraged to join for a fun refresher course and the opportunity to apply their skills to photographic imagery. All materials (fabric, embroidery floss, hoops and needles!) along with instructional diagrams are provided. Take this workshops' skills and techniques home with you and transfer your own photo archive into wall-ready works of art.
with Robert Mahar
This class is centered around a few exercises from Lisa's book [of the same title]. The goal is to touch on serious ideas of Color Theory, but through whimsy and play. Using watercolor you'll begin to learn about color schemes, paint transparency and opacity, tints and shades, etc. You'll learn more about how materials and other influences can impact our perceptions of color, and how to develop your own personal relationship to color – particularly through generating a PERSONAL color wheel. We'll end class with a Color Meditation – a incredibly beneficial practice Lisa has instituted in her own studio for years now.
with lisa solomon
Explore an imaginative method of transferring traditional weaving techniques from a standard rectangular frame to a circular format utilizing unconventional and easily accessible materials.  Designer and maker Robert 

Mahar

 will walk you, step-by-step, in creating a warp within a classic embroidery hoop allowing you to weave a meditative spiral of beautiful yarns. This beginner-friendly workshop sets you up with weaving best practices and the opportunity to play with fiber texture and color to create a wall hanging uniquely your own. All materials (embroidery hoop, shuttle, needle and fibers!) are provided. 
Plants, flowers, and food scraps are not only a feast for the eyes and palate, but they can also be a treasure trove of colors, tints, and subtle variations for natural dyeing. In this fiber workshop, we will explore how to extract the color from northwest flowers, foraged plants, and food scraps. We will experiment with a variety of cloth fibers, learn about mordants, and discover how to see the potential for color in our everyday landscape. Each student will leave with their own swatch color wheel from what we dye with on the day. 
with Renee Beaudoin
Join us to take a modern approach to the traditional technique of punch needle embroidery. The needle punching method results in beautifully textured finished pieces that can be turned into wall hangings, rugs, pillows, bags, and more. This is a super satisfying fiber art that is fairly quick and easy, so it's great for beginners! In this workshop you'll practice the punch while you work on an abstract swirl pattern designed for this class. Explore the various texture options to create your finished piece. We'll discuss different types of punch tools, fabrics, and fibers that can be used and troubleshoot common issues.
with Liz Wright
In this workshop you'll craft a custom wood cutting board using the art of pyrography. You'll learn the basic techniques of decorative wood burning, which, although dating back centuries, can be expressed with fun, contemporary designs. Using a pen-like burning tool, you'll work on small wood pieces to practice the basic technique. Next you'll move on to your masterpiece, burning a custom design onto a 13.5"x5.5" premium wood board that you can use for general food chopping or serving.
with Liz Wright
Let your inner textile designer shine and stitch up some small treasures! Join me (Sanae Ishida) in a relaxing class featuring loose, organic fabric painting and hand stitching. We'll play with various mediums on fabrics and will then sew your unique designs into lovely lavender-filled sachets. All materials will be supplied.
with Sanae Ishida
In this hands on workshop you'll learn the basics of making sugar scrubs and bath salts as taught by the founder and CEO of handmade. la conner, Robyn Bradley. Mix wet and dry ingredients to create your own jar of handmade. la conner's well-loved sugar scrub, but with your own scent and ingredients selections making it unique to your taste. Bath salts are a trendy and extremely beneficial addition to your bath time routine and after learning how to take them from basic to luxury you'll never go back. Both products will be large enough to enjoy for weeks to come! This fun, yet informative workshop will get your creative juices flowing and remind you how important self-care truly is. All supplies and packaging will be provided.
with Robyn Bradley
Camp ThunderCraft wouldn't be nearly as awesome without our generous sponsors! All these wonderful businesses are helping out in some way to make sure the weekend is super fantastic.