virtual Small Business classes
Are you a crafter, maker, or artist who is grappling with the hardships of running your own small business? Are you looking for small business classes, or new ways to connect with other vendors, makers, and creative small business owners while learning new ways to move your business forward? Join us for a weekend full of educational sessions at our small business retreat, Camp ThunderCraft!
a message from the organizers
We are so sad to not be able to hold Camp ThunderCraft in person again this year, but we didn't want another year to go by without the chance to help creative small business owners like you take it to the next level! We also foresee that this pandemic has really motivated so many creatives to turn their passions into full-time jobs, and know that the work we do at Camp is as relevant and as important as ever.
2020 put A LOT in perspective for the two of us who run Camp ThunderCraft, and has made us think so much about how we work, what is important to us, and it's given us a new kind of drive that we have been exploring both personally, and together as small business women. We are excited about the ways in which being virtual will provide unique opportunities for all of us — like meeting new people from far and wide who are all facing the same business challenges, and being able to have speakers and instructors who otherwise wouldn't have been able to fly across the country to join us. AND still finding ways to connect while staying safe.  We can all use some positive vibes and newfound energy around our small businesses right now, and we CAN'T WAIT to share that with you!

The Nitty Gritty
Who: Makers and small business owners from near and far
What: A weekend retreat focused around small business classes, panel and roundtable discussions, self-reflection, networking, and connecting.
Where: Anywhere you have an Internet connection and can carve out some space for yourself to focus on your business. (See "Prepare Your Space" on our Camper Information page.)
When: April 23rd-25th, 2021
Cost: $225 for a full weekend of programming, classes, activities & networking!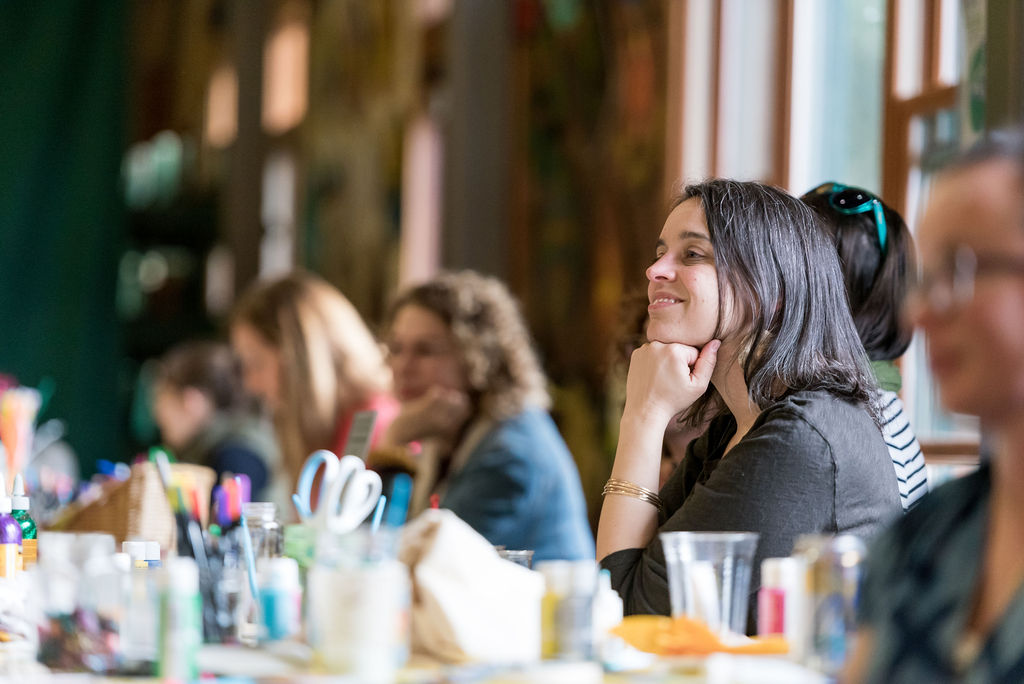 how is "virtual" camp going to work?
While you won't have to pack your sleeping bags and load up your car for this one, we will be coaching you through creating a dedicated space to use throughout the weekend so you can give the camp experience as much undivided attention as possible. We'll be using two main technology tools for all the weekend's programming:
We will be conducting all classes and speaking events through Zoom, and we'll have an instructor and a moderator for each session.
We will be using Gather for all of our networking and social events, which is a relatively new platform that has some cool features for networking that Zoom does not provide–most importantly, the ability to move in and out of spaces and mingle more informally. This is where we'll also be conducting morning activities such as yoga, "morning pages," and water coloring meditation, as well as where we'll host our evening networking opportunities and activities. (HELLO HAPPY HOUR!)
If this technology is new to you, don't worry! We'll be there to walk you through it every step of the way.
We'll also be introducing each of you in our Facebook group, and in a dedicated blog post on the site, so that you can all start to get to know each other beforehand and so that there will be some familiar faces once you're in these classes and activities together. This has always been such a helpful way to get comfortable with each other when we've held camp in person, and we have no doubt that it will be even more important now in the virtual realm!
Camp ThunderCraft Mission:
Camp Thundercraft aims to create a space where small creative business owners can come together to learn from one another, inspire each other to continue down our own creative paths, and connect with one another to learn better business practices FOR THEMSELVES.
To build relationships through a safe space that encourages idea sharing, self-reflection, and collaboration, that will extend to the outside world even after the weekend is over.
To learn from each other's experiences running small craft businesses and to magnify that knowledge in a focused, secluded environment, generating ideas for new directions in which to grow.
Camp ThunderCraft wouldn't be nearly as awesome without our generous sponsors! All these wonderful businesses are helping out in some way to make sure the weekend is super fantastic.