Business Name: Yardia
Business Website: https://yardia.co/
Facebook Page: 
Instagram Handle: @yardia
Etsy Page: https://www.etsy.com/shop/yardia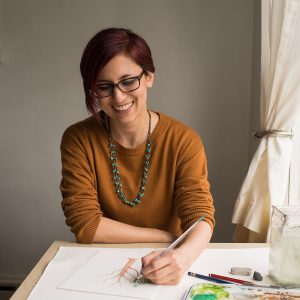 Brigida Swanson is a watercolor artist and illustrator, and a native of Seattle, WA. She grew up hiking, fishing and exploring nature in Washington, and these experiences inspired her artwork and the products she creates through her company, Yardia. Founded in 2008, Yardia creates illustrated stationery, art prints, camp mugs, ornaments and wrapping paper for nature lovers, based on Brigida's paintings of the Pacific Northwest. Brigida is also an art teacher and loves observing the antics of her four backyard chickens.