Business Website:  https://www.trishahall.com
Facebook Page: https://www.facebook.com/artbytrishahall
Instagram Handle: @artbytrishahall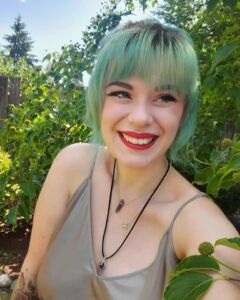 Bio: Trisha Hall is the artist and owner of Art by Trisha Hall. Her work is rooted in themes of nature, magic, personal growth, natural cycles, and the pursuit of universal truths. She creates fine art prints and stickers of her bright illustrative watercolor paintings. She explores her purpose to inspire, educate, and encourage others by livestreaming her creative process to over 5k followers and teaching art. Notable experience and accomplishments include her BFA in Fine Art from Central Washington University; studying Art and Architecture abroad in Rome and Florence, Italy; and receiving the Dick Elliot Fine Art Award for her oil painting, Smashing the Binary, 2018.