Website: https://www.cabledfiber.com/
Facebook Page: https://www.facebook.com/cabledfiber
Instagram Handle: @cabledfiber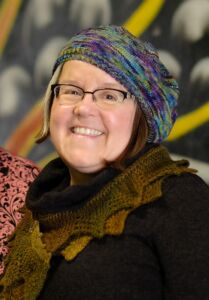 Bio: MarySue has been knitting since she was 4 and is a self-professed fiber artist. She knits, spins, weaves, felts, locker-hooks, dyes, sews, quilts and even crochets a little. An Accountant by trade she moved to Port Angeles in 2006 for a job opportunity and she opened her yarn store/studio/makers space in 2011 to set her self up for something to do in retirement. She retired from her full-time accounting job in December 2022 and is now teaching felting at Peninsula College Community Education as well as the store. In 2022 she was on the steering committee that put on a Fiber Exposition in Port Angeles to expose people to fiber arts with vendors and classes. For the last 5 years her store has put on a month long fiber exposition of local fiber art at a local gallery that is a open to all.