Business Name: Clouds and Sunbreaks
Business Website: 
Facebook Page: 
Instagram Handle: @cloudsandsunbreaks
Etsy Page: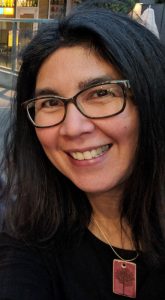 A native of New York, Kathy Manzella is the artist/owner of Clouds and Sunbreaks, located in Bellevue WA. Her dream is to put her motifs on everything – although she is slowly starting to narrow that down! Most recently, her focus has been stoneware ceramics. For nearly 10 years she was a stained glass, mosaic artist, creating simple narratives out of glass. With a need to create her own tiles for mosaics, she taught herself ceramics only to discover something totally new that she loved. She has done many local events and shows, but her most recent exhibition has been with GeekCraft Expo Seattle 2017 and 2018. During the in between times, she sells her prints via Instagram.