Business Name: The Pantry
Facebook Page: www.facebook.com/The-Pantry-152273474796217/
Instagram Handle: www.instagram.com/thepantryseattle/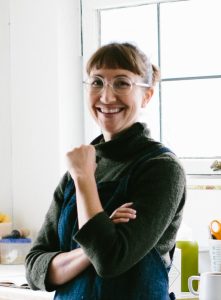 Natalie is an inquisitive artist and designer who crafts experiences and loves food. She navigates the art and design world in a multitude of ways, from objects for fine dining to farming to underground artisan food markets. She completed her BFA in Ceramics and MFA in Designed Objects at The School of the Art Institute of Chicago, and has spent time teaching at her alma mater and Cornish College of the Arts.
Dedication to craft and aesthetics permeates Natalie's work as she creates design for food, and food experiences that promote collaboration and energize everyone involved. Engagement in a conversation of community and collaboration led her to create and host the Nite Market, an event in Chicago that brought a group of experimental artisan food producers and chefs under one roof to share with each other and a hungry crowd.
Currently, Natalie's work centers around ceramics, participation and public space, engaging in traditional craft practices and creating aesthetic experiences that allow opportunities for social engagement and collaborative design. Her work has been exhibited in both nationally and internationally. At the Pantry Natalie is our manager of operations, which means that she keeps all the moving parts moving.