Business Name:  A Stone's Throw Jewelry
Business Website: http://www.astonesthrow.us
Facebook Page: www.facebook.com/astonesthrowjewelry
Instagram Handle: @astonesthrowjewelry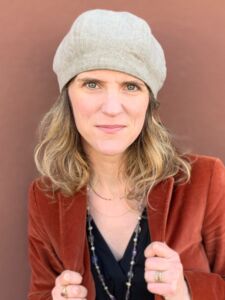 Bio: Hi, I'm Kimberly! I stumbled into the world of jewelry design in 2003, after making a few necklaces for Mother's Day gifts. I'd lost my grandmother several months prior, and creating with gemstones brought me joy for the first time since that loss. Having been a math teacher, a rock-climbing instructor, and a white water rafting guide in the years prior, I was just as shocked as everyone else, to find myself launching A Stone's Throw jewelry out of the blue.
Fast-forward 19 years; My jewelry designs reflect my affection for symmetry, my love of the color stories found in nature, and my active lifestyle that prefers fashion without fuss. I aim to make effortless jewelry for those on the move that stand the test of time, both mechanically and stylistically.
Giving back has always been part of my business model. A portion of all my sales goes to various non-profits that support women, children, refugees, and racial justice. Just in the past 3 years, A Stone's Throw has donated nearly $20k to these causes! That never could have happened without people who value shopping small and supporting independent artists, so thanks for being part of my continued story!