Business Name: Glitter and Gold Studio
Facebook Page: www.facebook.com/GlitterandGoldJewelry
Instagram Handle: @glitter.and.gold.studio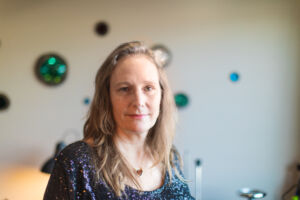 Bio: Glitter & Gold may be new (I opened the doors December 2021), but I'm not new to the art of creating custom jewelry. In 1994, starting out as an apprentice for my uncle at Foxfire Jewelers, I swept floors and washed walls, working my way up to jewelry repair and then custom creation.
I began building my craft as a custom jewelry designer, spending tens of thousands of hours on the bench, learning to fix, design, ethically source materials and gems, and ultimately create high-quality jewelry that stands the test of time. I've been lucky to have spent my entire career as a goldsmith working exclusively for custom design studios. I've helped clients make thousands of distinctive pieces, each one as unique as themselves.
It was a combined catalyst of the pandemic and my 50th birthday that fueled the spark to finally pursue my dream of opening my own studio – one where I could invite clients in to experience the art of creating unique and meaningful jewelry.