Business Website: http://www.GlitterAndGoldStudio.com
Facebook Page: https://www.facebook.com/GlitterandGoldJewelry?mibextid=LQQJ4d
Instagram Handle:  @Glitter.and.gold.studio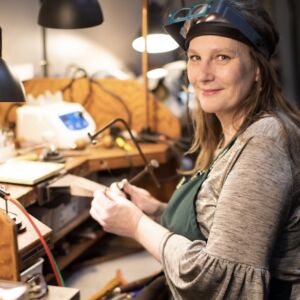 Bio:  Glitter & Gold may be new (I opened my doors December 2021), but I'm not new to the art of creating custom jewelry. Starting out as an apprentice for my uncle at Foxfire Jewelers in 1994, where I swept floors and washed the walls and working my way up to jewelry repair and then custom creations.
I've spent tens of thousands of hours "on the bench," learning to repair, design, ethically source materials and gems, and ultimately create high-quality jewelry that stands the test of time. I've been lucky to have spent my entire career as a goldsmith working exclusively for small custom design studios. A combined catalyst of the pandemic and my 50th birthday fueled the spark to finally pursue my dream of opening my very own jewelry studio in SODO.
Using 100% recycled precious metals, ethically sourced gemstones and diamonds, and focusing on small businesses as my vendors I'm able to make custom jewelry that supports our heart and home.
I'm also excited to launch my passion project in 2023, where I'll be offering free jewelry transformations for clients going through gender transformation, so their special heirloom jewelry will be a reflection of their true selves. I can't wait for this new chapter!