Business Website: https://www.chaingedesign.com
Instagram Handle: @CHAiNGEdesign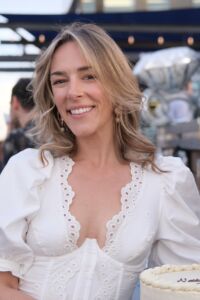 Bio: With a profound love for creative expression through handcrafted, beaded accessories, and unique designs, I founded CHAiNGE in November of 2022 after getting laid off from my corporate job. I took a leap of faith and decided to change course in the way I make a living- by being creative and doing what I have always loved doing, which is making jewelry and accessories. My mission is to design and create quality jewelry with minimal impact on the environment. Through CHAiNGE, I intend to change up the way we design, create, and wear accessories. That's why each piece is carefully handmade with beads sourced from reclaimed jewelry from thrift and second-hand stores and vendors, yet designed and recreated to encourage long-lasting, versatile wear. I design and create each piece by hand, and my main seller is my Adaptable Accessory Chain. This is a glasses chain that can also be worn as a necklace, bracelet, or other body jewelry through the use of its gold loops that I designed with the intention of making the chain versatile. Currently, I am running this small business independently, posting new, one-of-a-kind pieces to my website every other Thursday, and using mostly Instagram and some TikTok to advertise.