Business Website: https://www.miashandwovens.com
Facebook Page: https://www.facebook.com/MiasHandwovens/
Instagram Handle: @miashandwovens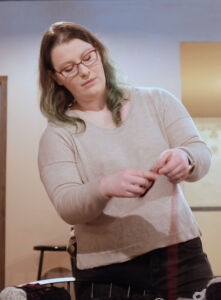 Bio: Twenty years ago, at about ten years old, I was walking through the Colorado Renaissance Faire and stopped at one of the many historical clothing vendors. There was a giant clacking machine, and a nice lady was throwing what looked like a thread-filled boat right to left, then left to right, methodically and consistently. In between each toss, there was a loud "click… clack…" "swish… click… clack… swish… click… clack…" and on and on until a sheet of fabric, many times larger than I was, came off of the giant machine. I fell in love with the loom that day. Just a few years later, I learned to weave. In 2019, I decided that it was the time to share more than just finished products with the world. I wanted to teach my community to love weaving the way I do. To breathe the meditative rhythms of the loom and to build their own relationships with the materials our world provides for us with which to create. So I formally opened Mia's Handwovens, designed laser-cut looms and tools for future students, and started teaching in-person workshops in Everett, Washington, and the Greater Seattle Area. When I'm not teaching or working as a scientist, I'm creating stunning custom pieces, honing my skills at the loom, learning new techniques, and embracing new styles of weaving as I find out about them.