Website: http://www.thecheekyturtle.com
Facebook Page:  http://www.facebook.com/thecheekyturtle
Instagram Handle: @thecheekyturtle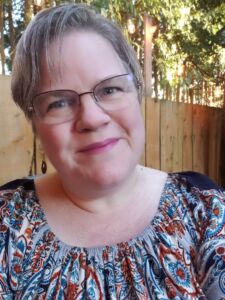 Bio: At 52 yrs old, I'm a sassy, creative work-from-home person who loves to sit in my small town coffee shop's brown velvet couches to crochet or do work on my laptop whenever possible. I have 3 sons who are mostly grown – the youngest a senior next year in high school and wanting to be a chef, the middle one pursuing a career in baking and cooking, and the oldest living with me and trying to overcome the challenges of Autism to build an independent life he can love. My dream existence would be living near the water with a wide porch, surrounded by craft supplies and good company, crafting and chatting the days away. My entrepreneurial heart is always seeing opportunities to continue making a living doing things I love – business possibilities are everywhere, and too many ideas can sometimes overwhelm. Divorced now, I'm ok with being on my own in that department, but companionship and friendship are always welcome treasures to discover, in any form, in this forever-altered-by-pandemic world. Caring for my son and my 76-year old mama with Alzheimer's changed my career focus completely, and being available to their needs is paramount. Working for myself and building a consistent small business income was my answer – Over 20 years of reselling on ebay, building a thriving Etsy shop, and now live auction interactive selling on whatnot provide so many ways to do work that I love. As with many crafty small business owners, the business aspects sometimes become confusing and overwhelming, and the guidance of the hive mind is a perfect antidote. I look forward to adding friendships, knowledge, and contacts to my arsenal of skills at this amazing event of like-minded folk who understand my goals and purpose!