Website: https://kumalma.com/
Instagram Handle: @kumalmaco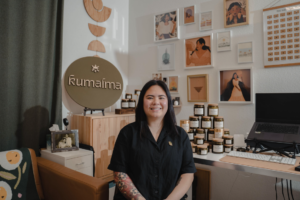 Bio: My name is Jaimie Lynne Quant and I am the owner and founder of Kumalma. Kumalma in Tagalog translates "to calm down" and I blend wood wick soy candles that are meant to be a light even during your darkest days.
I took a leap of faith and left the corporate world to go back to school and become an Esthetician. In the midst of a global pandemic, spas shut down so I taught myself the science of candle making. Blending scents that were nostalgic for me and sharing my story has helped me create deep connections with customers. I try to practice vulnerability, transparency, and intentionality not only in my life but in my business as well.
As an assistant buyer, I used to visit large craft shows and hear the stories of each maker and daydream about having my own booth one day. More than 8 years later, here I am living my wildest dreams. Connecting with folks over something I created from nothing and other makers that are just as passionate about their craft as I am.